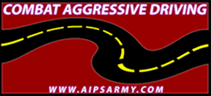 INSTRUCTOR FORUM
---
OUR INSTRUCTORS


STEVE VERRET

Steve Verret is an expert in traffic safety, has taught over 100,000 people. Steve is also an accomplished entertainer. His work, and his humorous "edu-tainment" approach to learning has been featured in many national and local publications, including the Los Angels Times, People Magazine. He has been featured on numerous television programs and performed at some of the top venues around the country, including the famous Improv Comedy Club, as both a stand-up comedian and a traffic safety speaker. Steve's unique approach teaching traffic safety makes your learning experience enjoyable and fun.


TODD VITTUM

Now in his second decade of safety training, Chief Instructor Todd Vittum is proficient in all courses offered by AIPS- the "Aware Driver" Defensive Driver Course, Mature Driver, New Driver, and The "RoadRageous™ Aggressive Driver's Course". Not just an instructor, but a trainer of instructors, he has dealt with a wide ranging student base will skill and humor, providing an enjoyable experience with a powerful message -safety.


MIKE OSUCH

Retired Deputy Mike Osuch has been teaching safety all of his life. As a Metro Dade Sherriff's Deputy he dealt with the effects of aggressive driving on a daily basis. Now he brings a wealth of experience to AIPS, having taught numerous classes to students nationwide including The US Army, Northeastern Georgia Medical Center, and a host of others.